Plan your trip along the Northern Headlands
Donegal has the largest coastline in Ireland stretching 1134 kms/ 772 miles,of amazing cliff scenery. With beautiful natural landscapes and rock formations, inlets and headlands that have been shaped by the Atlantic Ocean for millions of years.
The Wild Atlantic Way (WAW) is a 2500km (1500miles) driving route from Malin head the most northerly point in Donegal to Kinsale in County Cork along the west coast of Ireland.
The WAW was initiated in 2014 by Junior Minister for Tourism Michael Ring, and is enjoying
huge success as visitors to Ireland increase year by year.
Discovery / Signature Points
Donegal was voted "the coolest place on the planet" by National Geographic Traveler in 2017 and is fast becoming a must visit destination for tourists from all around the globe. Donegal Scenic Travel is situated along the Wild Atlantic Way and has 5 signature or discovery points on its doorstep and visited as part of our tours.
Fintra is a blue flag sheltered sandy  beach along the coast of Donegal bay, popular with both locals and tourists. Many enjoy strolling along this 500 metre beach, while others have fun in the clean waters swimming, canoeing, snorkeling and fishing in the rock pools. A sun trap, Fintra beach is a perfect spot for relaxing on the long summer days!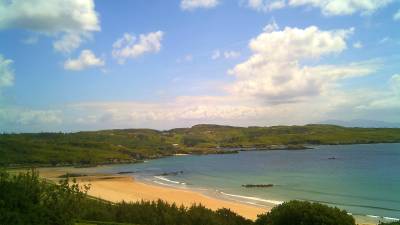 Muckross viewing point offers a magnificent panorama across Donegal bay as far as Benbulben and on a clear day far beyond. The prodigious crag at Muckross head commands the view and is popular with experienced rock climbers.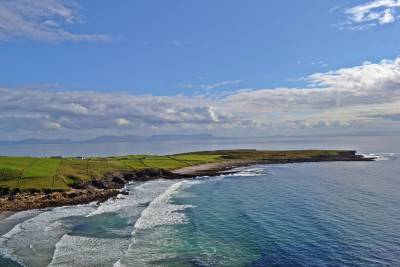 Slieve League (Sliabh Liag)
Imposing Sliabh Liag is one of Ireland's most accessible natural attractions and would be the most famous of the "Wild Atlantic Way" signature points in south Donegal.
At over 600 metres Sliabh Liag has the highest marine drop in Europe. It is set in a spectacular rugged landscape carpeted in heather. At the top of Sliabh Liag, an everchanging vista of the Atlantic ocean and Sligo mountains delights the photographer but bewarned, walking the renowned One Mans Pass is not for the faint hearted! Bunglas has tables, benches and a viewing platform. Tea, coffee, Ice cream and snacks are available during the Summer season.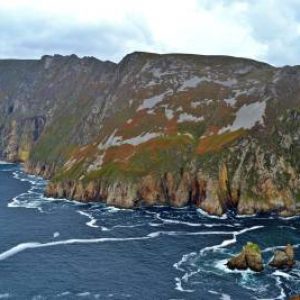 The twisty and steep Ghleann Gheis Pass sits between the dramatic Ghleann Gheis and Mulmosog mountains. Its on the scenic but rural road from Glencolmcille / Carrick to Ardara, where sheep rule the road. There is a viewing point at the top with picnic tables where one can sit and absorb this stunning and peaceful valley on the Wild Atlantic Way.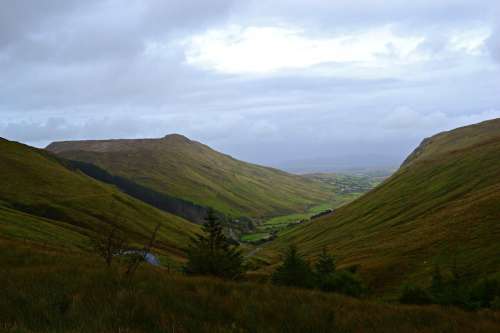 Silver Strand, Malinbeg Co. Donegal
Silver Strand is a Beautiful wide beach with clean golden sand sheltered by horseshoe shaped cliffs this stunning beach never fails to impress. To get to the beach you do have to climb down 170 steps. You also have to climb up them again but there are benches to rest and catch your breath. 
The discovery point is in the car park over looking the beach and the Martello tower and Rathlin O'Birne can be seen in the distance. Sheep graze here all year round so watch your step and close any gates!
The Silver strand is a real Donegal gem along the Wild Atlantic Way.

Our tours ensure that visitors do not miss out experiencing the breathtaking views , culture and heritage of the magnificent Sliabh Liag peninsula section of the Wild Atlantic Way.  Refreshments are available to purchase en route.
For group & family rates , bookings and further information please contact 0860874444
Embrace the Wild Atlantic Way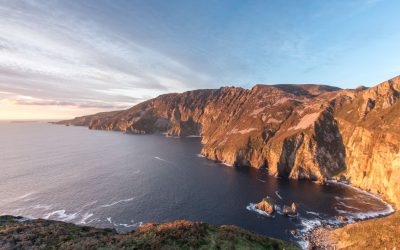 Donegal - Killybegs - Slieve Liag

- Malinbeg - Glencolmcille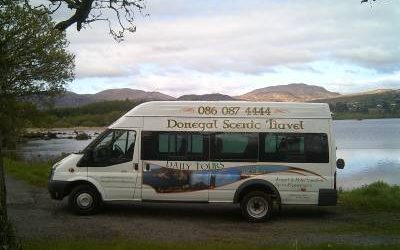 Contact Us for more information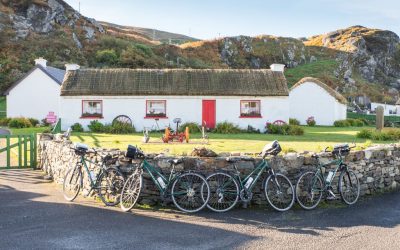 Contact Us for more information