Explore off-the-beaten track hideaways, rugged shorelines and untouched sea cliffs with Donegal scenic travel.
Explore beautiful majestic historic Donegal with Donegal Scenic Travel.
Having over 30 years experience in the passenger transport industry, we are a new business based in Carrick village along the Wild Atlantic Way, at the foot of Sliabh Liag, one of the most visited places in Donegal, with the stunning breathtaking views from the highest sea cliffs in Europe. 
Donegal has the largest coastline in Ireland stretching 1134 kms/ 772 miles,of amazing cliff scenery. 
With beautiful natural landscapes and rock formations, inlets and headlands that have been shaped by the Atlantic Ocean for millions of years.  
The Wild Atlantic Way (WAW) is a 2500km (1500miles) driving route from Malin head the most northerly point in Donegal to Kinsale in County Cork along the west coast of Ireland. 
The WAW was initiated in 2014 by Junior Minister for Tourism Michael Ring, and is enjoying 
huge success as visitors to Ireland Increase year by year. 
Donegal was voted "the coolest place on the planet" by National Geographic Traveler in 2017 is fast becoming a must visit destination for tourists from all around the globe. Rich in culture and tradition, Donegal has many native speaking communities spread throughout the County.
Our woolen and textile industries are world famous, testament to the centuries of invention, industry and survivalistic nature of a rural people besieged by hardship and emigration. Historic Donegal reaches over 5500 years into the past with many ancient Dolmens, Burial sites ,ruins of Churches, Forts Cairns and Castles dotted throughout the County .
With many tales of battle and invasion and settlements, from before the vikings to the plantations of Ulster. Our tours ensure that visitors do not miss out experiencing the breathtaking views , culture and heritage of the magnificent Sliabh Liag peninsula. You will see the beauty of Donegal from the many photos included on the various pages on this website so why not come and experience the reality of life in Donegal and explore it with Donegal Scenic Travel.
All photography on this site are the property of Donegal Scenic Travel.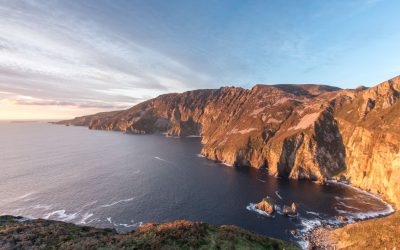 Donegal - Killybegs - Slieve Liag

- Malinbeg - Glencolmcille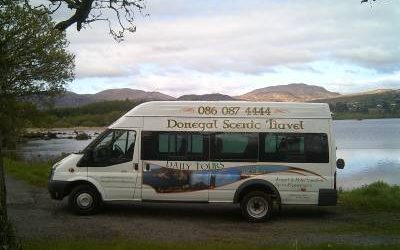 Contact Us for more information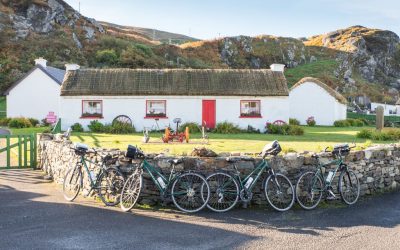 Contact Us for more information